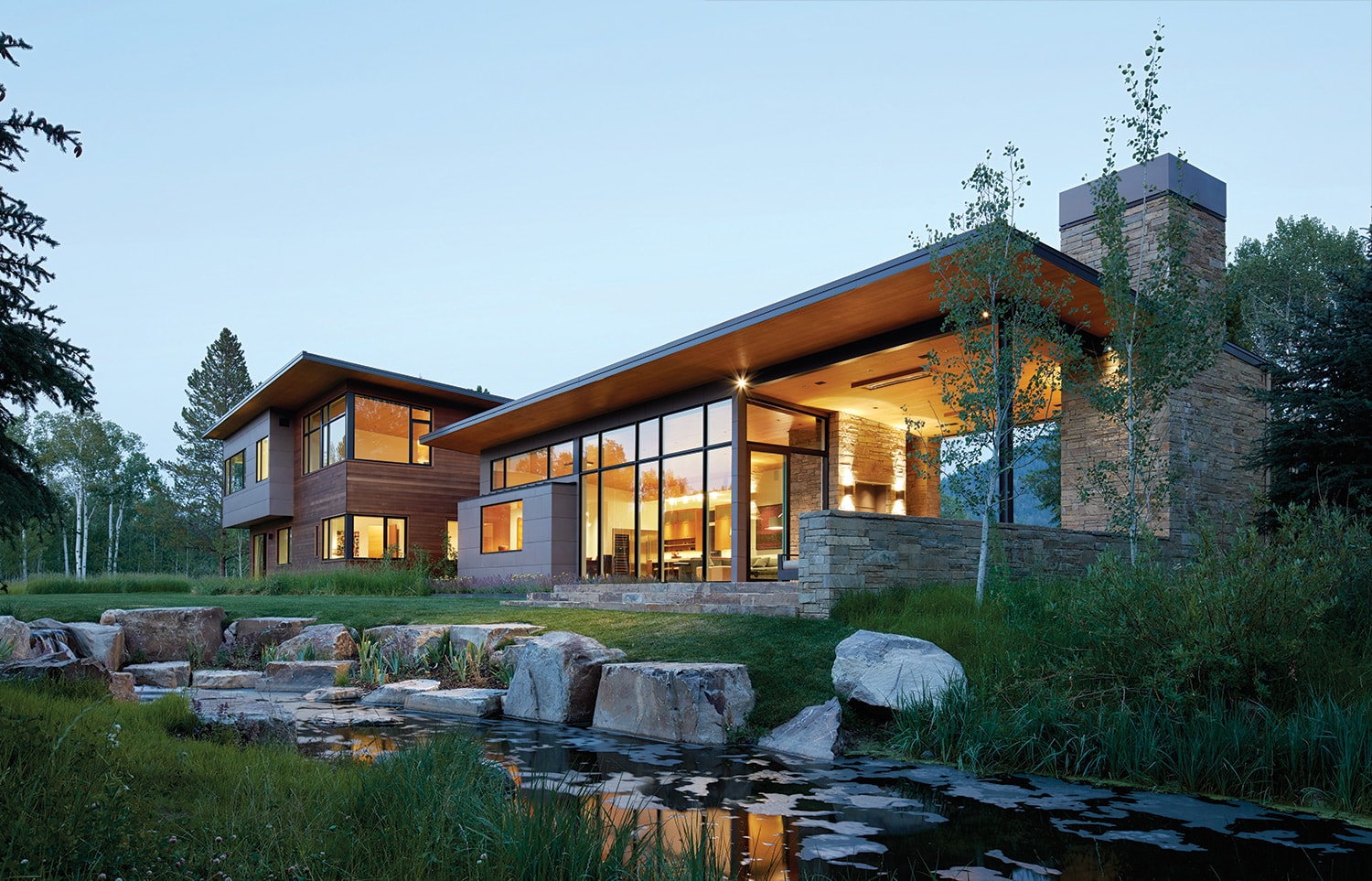 Architects at Carney Logan Burke designed a contemporary home for a family of five near Jackson Hole, along with a guest house and gear barn.
12 Apr

A Home with a View

in

LET'S SAY YOU'RE THE OWNER of a fantastic lot in Wilson, Wyoming, in a subdivision at the bottom of Teton Pass, near Jackson Hole. It's a superb location, with sweeping views of the mountains beyond, but the only drawback is that you're attached to it. You know it's special, and you feel the need to find the perfect fit; those who will put it to its best possible use.

Then you find an outdoor-loving family of five from San Francisco who are in search of a new mountain home and a basecamp for all of the experiences that this area has to offer. They immediately fall in love with the lot. Bingo!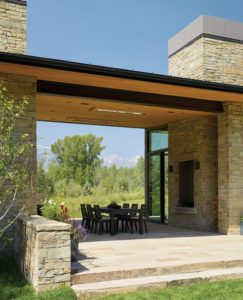 The open vista on the property was a bonus for the lot's new owners — and for the architects they chose to design their new, full-time home. "The views drove the design," said Matt Thackray, an associate at Carney Logan Burke Architects.
Still, the architects vigorously debated the home's orientation. "To the west, the views get better, and to the east it's more private, so we went back and forth, and finally decided to align the house on an east/west axis," principal John Carney said. "The light is on the outdoor terrace on the most westerly side."
Carney, Thackray, and CLB principal Eric Logan worked on the design of the house along with their clients, Catherine and Bill Bradford. "Matt was the project architect — we can sketch out a few concepts, and he'll develop them," Carney said.
The program — a main house, a guesthouse for in-laws, and a gear barn for skis, kayaks, boats, and related equipment — was well-defined by the Bradfords. They offered a great deal more input as well. Bill, a physician who was taking a professional break while planning the launch of a new biotech company, found himself with plenty of time to think about how his family's new house might look. He and his wife wanted to share that with the architects.
"They really listened to us diplomatically. We gave a lot of feedback, so it wasn't like: 'Go build us a house,' where we stepped back," Catherine said. "They said that Bill was one of the most hands-on clients they've ever had. It was a very interactive relationship."
As project architect, Thackray was involved with Bill in every decision — like the use of walnut flooring from Bill's home state of North Carolina. "Bill kept pushing and pushing with questions about color, since some walnuts are brown and some are red," Carney said. "Matt learned a lot from all the research Bill prompted."
The end result is a residence borne out of the firm's inquisitive and engaged relationship with a pair of thoughtful clients. "We have a customer-service, client-oriented approach and at the end of the day, these clients might think they designed the house," Thackray said. "It was such a customer-focused design effort."
Jennifer Mei, director of interior architecture at Carney Logan Burke, worked as a consultant with the architects and clients to develop a palette of materials for the interior cabinetry, floors, ceilings, and tiles. "They were with us every step of the way," she said. "Part of our scope as architects is soft stuff like rugs and art, too. Catherine's mother is an interior designer and she'd go to showrooms in San Francisco and come back with samples, and we'd go through them together, and sort through them, and help with that too."
The Bradfords, who'd already restored an Edwardian home in San Francisco, also had experience with modern architecture — and liked it. So they arrived in Jackson, developed a relationship with Carney Logan Burke, and began thinking about contemporary design. "We like that sensibility," Catherine said.
Key questions revolved around how to integrate the breathtaking beauty of their surroundings into their home, and allow the family to experience it. The answers from their architects: more windows, for a sense of being outside even when they're indoors. "We were going for a contemporary home for a busy family, with lots of light, big windows, and spacious rooms," Mei said.
They got exactly that. "We love the result," Catherine said. "We wanted something warm and inviting, and we sufficiently achieved that."
For the interiors, Mei and the architecture team employed a color palette of natural woods to contrast the with the walnut floors. They built cabinets made of anigre, a lesser-known, light-colored African wood. "The Bradfords had used it before in San Francisco," she said. "It's vertical in its nature and its grain quality, and has a feel to it that's different from oak or more typical woods — it's warm."
The home's ceilings are hemlock, which also is lighter than the walnut floors. "The anigre and hemlock are more blonde in tone," she said. "So there are dark floors and lighter cabinetry and ceilings."
All in all, the interiors were created to be a warm series of spaces that are also modern, as opposed to an homage to Jackson Hole rustic. "It's a modern interpretation of a mountain home," Thackray said.
The architects' assignment was to craft a family compound that could live up to the best that Jackson Hole can offer: a beautiful place to raise a family, where parents and teenagers alike can embrace the culture and lifestyle of the mountains.
"The whole family is very outdoor oriented — that's why we came here and decided to settle here for a while," Bill said. "It's a glorious place in a natural environment; we can sit around and watch elk, moose, foxes, eagles, and hawks."
They created a pond between the house and the mountain view — so there's space for practicing kayak skills — then added a patch of bluegrass for lacrosse drills. "We did some plantings of native trees to screen some areas," he said. "We wanted to make it indistinguishable from the surrounding areas, with aspens and conifers around it. We didn't change things dramatically."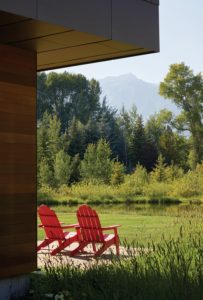 Bill is an avid skier, hiker, mountain climber, and fisherman. "Life around here works well in the winter. We love the alpine skiing, the snowshoeing, and the backcountry skiing," he said. "I have a number of bad habits, and fishing is one of them. We have an abundance of rivers and lakes with great fishing for rainbow, brown, and cutthroat trout."
And if ever they tire of the outside, there's the interior to appreciate "They have a beautiful art collection — this is a client with impeccably good taste," Carney said. "It's an intersection of a modern house and a youngish family." He paused for a moment, then elaborated: "It was like, 'Hey, let's have fun here! It's a young client with good taste!'"
An architect couldn't ask for much more than that.