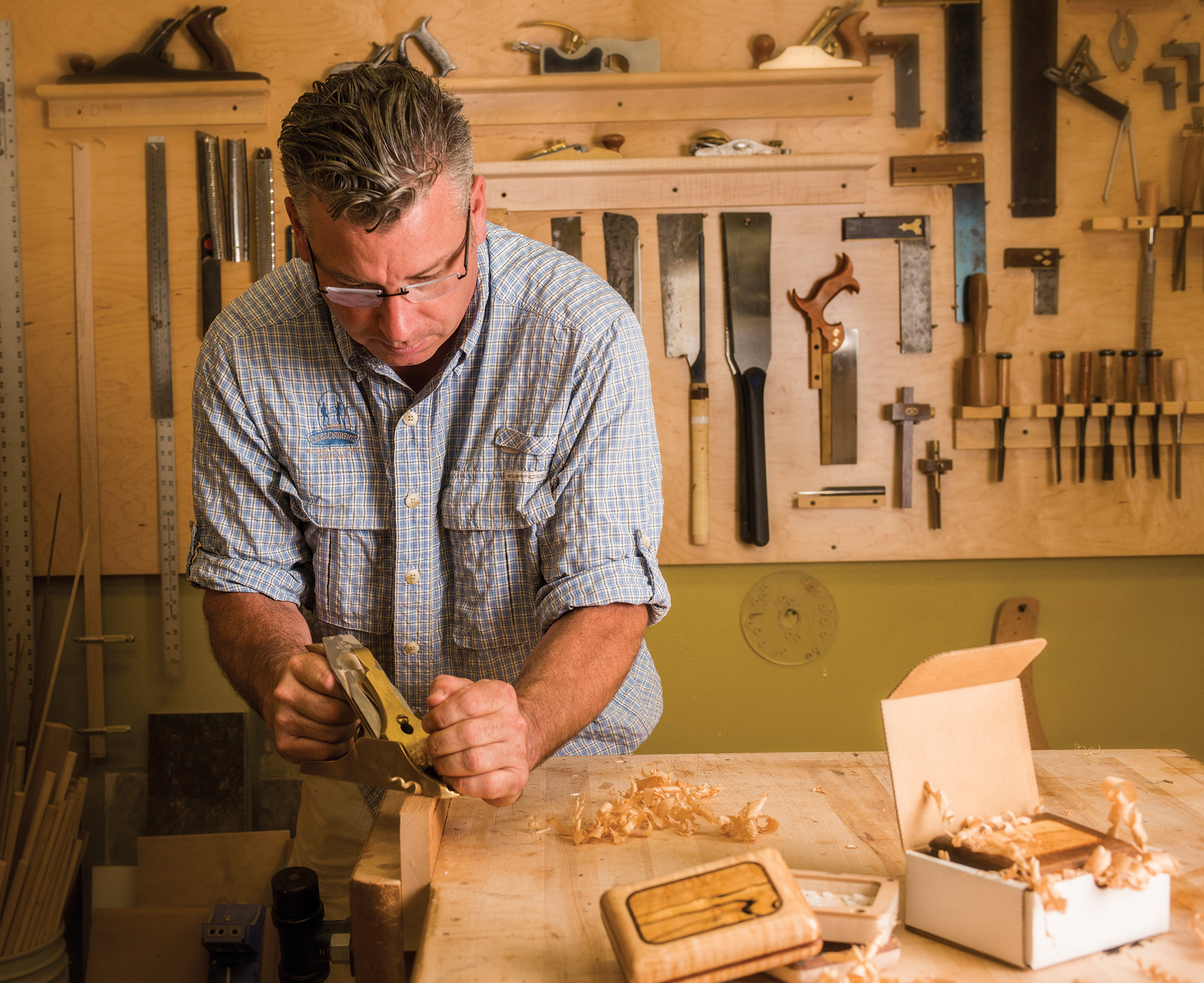 29 Jul

A Craftsman's Studio

in

CREATIVITY AND ORIGINALITY are the heart and soul of woodworker Al Swanson, and these are manifest in his eponymous A.L. Swanson Gallery and Craftsman Studio in Helena, Montana.

The gallery walls are adorned with a luxurious collection of paintings. A large sweeping window reveals the building blocks and sawdust of the furniture-building component. To navigate the gallery is to experience a sleek intermingling of talent, trade and toil.

Swanson grew up on a woodsy farm in Maine, near streams, lakes and the Atlantic Ocean. He spent summers fishing with his brothers, learning at a young age how to build things, discovering what tools were required to finalize a project. There was a bounty of hardwood trees on his family's property; he and his brothers spent countless hours gathering firewood and tapping sugar maples. "I loved being amongst the trees," Swanson says. "I loved working with my hands, being creative and making beautiful objects in wood."

Heavily influenced by the New England Shaker aesthetic, Swanson consciously imparts his own flavor to his work. It could be a line, or it could be a slight curve or some other detail that makes it his.
Life and a love for fly fishing brought Swanson to Montana. He opened the gallery in 2004, featuring his minimalist craftsmanship in a homey environment. In 2007 he added the teaching component, offering the hands-on opportunity to make a table and learn the art of craft. Designed for true beginners, participants don't need to know how to use a sander or a grinder. At the end of the class, students will have crafted, say, a Shaker-style, cherry end table. Whether they are attempting an end table or inlays, dovetails or rocking chairs, Swanson says, "We have the tools and the experience you need to further develop your inner artist."

Developing that inner artist continues to motivate Swanson in his own work. Last year, the Helena artisan spotted an opportunity to merge his love of wood and fishing with the thrill of testing new entrepreneurial waters. He would attempt to turn a plain, utilitarian, plastic fly box into a functional, handsome piece of art.

"I noticed a convoy of drift boats lined up in front of our neighboring hotel," Swanson says. "It hit me. I had to have a sensible, usable and affordable item that was made in Montana for those folks to pack with them. We started making prototypes that day, and the first two boxes completed were soon sent to the Orvis Company for review. I thought 'Why not?'"
In the gallery, he runs his fingers across a handsome walnut fly box, replete with abalone, mother of pearl and various metals. Orvis loved the boxes and added them to their catalog. In fact, Orvis released four catalogs in the fall of 2014 touting its "Sporting Gifts Collection," incorporating distinctive products with stories behind them. When the catalogs hit the mail, Swanson's fly boxes appeared on three of the four covers, and his profile ran on the back of one issue.

"Obviously, his boxes are a work of art," says Christine Penn, merchandise coordinator and analyst at Orvis. "I think attention to detail, finish, abalone caps over the magnet closures, inset hinges — all make these superior to any other wooden fly box I've ever seen."

Orvis trusted that a Montana woodworker with plenty of fly-fishing experience under his belt could rally interest and curiosity among anglers.

"People see Montana as a Mecca for fly fishing, and a quality wooden fly box from Montana was such a great fit," says Simon Perkins, senior manager of Orvis Adventures and Hunting. "The story behind it and the craft in every fly box does a great job of symbolizing all of those Montana rivers."

Each of Swanson's wooden fly boxes incorporates several types of hardwoods, including tiger maple, figured black cherry and Pennsylvania walnut. Several are named after Montana's most famed rivers.

"Living and fishing in Montana is pretty special," Swanson says. "Those rivers that serve us so well are iconic. The River Series contains five different boxes named after Montana waters: the Missouri, the Yellowstone, the Smith, the Blackfoot and the Madison. Each is made of a different combination of woods whose colors remind me of the landscapes surrounding these waters."

The wooden fly boxes are finished with several coats of a water-resistant varnish, and then polished by hand to buttery smoothness. He adds a solid brass lanyard post in one corner, and a subtle cut-away to allow slippery fingers to open the box with ease. For die-hard fly fishermen, the idea of such an attractive accessory might be superfluous. But they can rejoice knowing that Swanson has concentrated taxingly on making a piece of gear that's intended for daily use.

"We received feedback from a guy who told us that it is the only piece of fly-fishing equipment his wife will allow in the house. That's a compliment. It's meant to be used," he says.

Swanson's strong relationship with Orvis has evolved. They now carry his handcrafted landing nets and cigar boxes in both their retail and mail order outlets. Although he honed his skills as a traditional woodworker using hand tools in New England, Swanson has the same pride in the boxes as he does a hand-constructed dining room table or chair.

"Helena, Montana's signature accompanies every fly box, net, table or chair I make," says Swanson. "All works are created right here in the foothills of the Rockies."

That pride is inscribed into each one-of-a-kind piece, whether it fits in your pocket or in a room of your house.