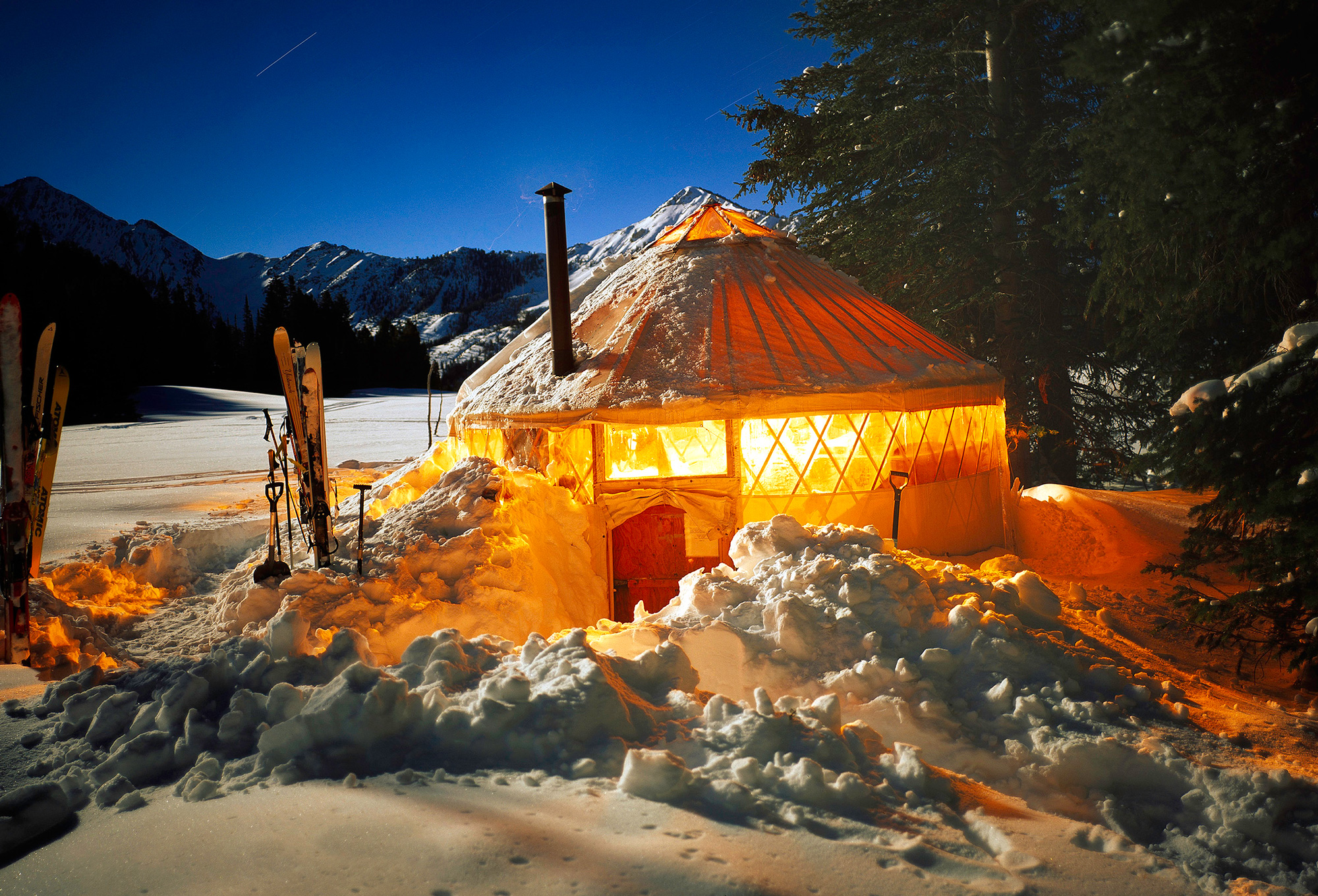 23 Jul

2010 Big Sky Journal Bucket List: Top 37

in
Q: WHAT'S ON YOUR BIG SKY LIST?
A: How big is your bucket?
Introducing BSJ's annual directory for the best adventures, escapes, quests, daydreams and experiences in the Northern Rockies. This is your bucket list for Montana, Wyoming and Idaho: Big Sky Country.
1. Make first tracks.
Getting into the backcountry (by helicopter, snowcat or on skins) isn't just for experts, but it is for extreme powder-lovers.
• High Mountain Heli-Skiing: Teton Village, Wyo.; 307.733.3274; www.heliskijackson.com
• Montana Backcountry Adventures: Big Sky, Mont.; 406.995.3880; www.skimba.com
• Whitefish Mountain Resort (snowcat adventures): Whitefish, Mont.; 877.SKI.FISH; www.skiwhitefish.com
• EpicQuest (heli-skiing): Sun Valley, Idaho; 888.983.EPIC; www.epicquest.com
• Grand Targhee Resort (snowcat adventures): Alta, Wyo.; 800.TARGHEE; www.grandtarghee.com
2. Go sledding.
3. Learn to fly fish.
Any savvy fishing guide in the region can impart the basics, but at the annual Ennis on the Madison Fly Fishing Festival you can learn from the best with casting clinics and fly-tying demos by the best trout bums in the nation. 406.682.3148; www.madisonriverfoundation.org
4. Sleep in a yurt.
Yellowstone Expeditions offers cross-country ski tours into Yellowstone National Park that are beyond the mainstream, with cozy accommodations at "Yurt Camp" near the Grand Canyon of the Yellowstone. 406.646.9333; www.yellowstoneexpeditions.com
5. Learn to dance the two-step.
In Montana, lessons are available at the Livingston Center for Art & Culture with instructor Kerie Hagler. 406.222.5222; www.livingstoncenter.org
6. Ride the Divide.
Mountain bike Mile Creek Road in Montana. This section of the iconic Continental Divide Trail is near the Montana/Idaho border just north of Raynolds Pass in the Henry Mountains. It begins at 6,800 feet and heads up, up, up, where switchback after switchback brings you (eventually) to a mountain plateau above 10,000 feet near Targhee Peak — assuming you've got the gumption.
7. Cruise the Beartooth Highway on a Harley.
What better way to see the "Top of the World?" Rentals are available seasonally from Montana Harley dealers in Belgrade (406.388.7684; www.yellowstoneharley.com), Billings (406.252.2888, www.beartoothonline.com) and Red Lodge (406.446.9856) and in Wyoming from Cody (307.527.7776).
8. Brew your own beer.
Or taste some of Montana's best from across the state. Repeat champion brewers at Bitterroot Brewing in Hamilton, Mont., (www.bitterrootbrewing.com) and Montana Brewing Company (www.montanabrewingcompany.com) in Billings may have a few tips for DIYers at their pub locations. Or sample the whole gamut of excellent handcrafted beers from around the region at the annual Garden City Brewfest in Missoula, Mont. (May 7, 2011; www.allmissoula.com; 406.543.4238).
9. Find the perfect Montana Christmas tree.
For five bucks and a little sweat equity you can trudge onto public land to hunt for that imperfect tree to take home. Contact your region's National Forest Service district for details on permits. Here are some tips to responsible tree hunting:
• Be sure you are on National Forest land; private landowners might get angry if you aren't.
• Cut your tree at least 200 feet away from main roads, campgrounds, and other recreation sites.
• Select your tree from thickets or crowded areas. Do not remove trees from thinned plantations or other sparsely stocked areas.
You can also opt for a fun domestic experience replete with wagon rides and hot cocoa — look to www.pickyourownchristmastree.org for regional outfits.
10. Buy local.
• Red Oxx: If adventure could fit into a bag, it would be a Red Oxx Flying Boxcar duffel ($175) — big enough for all your gear, anywhere. After 15 years of military parachute rigging experience, Red Oxx owners Jim and Perry focus that attention to detail on everything with a Red Oxx label. Every bag is made in Billings, Mont. 888.733.6999; www.redoxx.com
• Crazy Creek Chairs: Versatile, lightweight, tough, yet comfortable and made in Red Lodge, Mont., the ultimate camp chair remains a backcountry essential. The Crazy Creek Adventurer Line Power Lounger ($60) doubles as fireside chair and sleeping pad. 800.331.0304; www.crazycreek.com
• Montana Boat Builders: Buy a custom drift boat or build your own from this Livingston-based artisan. The Freestone Guide is the most popular custom boat, featuring an enormous amount of dry storage, level floors, a front pedestal with dry storage, and a 180-degree forward cockpit for a deluxe group ride on the river. A 16-foot Freestone Guide starts at $10,915. 406.222.2791; www.montanaboatbuilders.com
• Mountain Khakis: Because comfort is just as important as looking good in your pants (that's MK butt to you!), Mountain Khakis Original Mountain Pant ($72.95) is the standby for men and women of the wild. The Jackson, Wyo., company launched in 2003. 866.686.5425; www.mountainkhakis.com
• Schnee's Boots: If hunters and ranchers favor Schnee's insulated pac boots that are waterproof, subzero and hand-stitched, then the rest of us can learn a thing or two. Manufactured in Bozeman, Mont., Schnee's Bison Hunter II (10 inch for $239) has been the outdoorsman's standby for 20 years. Schnee's has earned an unparalleled reputation for quality, durability, and performance so you can climb, sidehill and hike all day in the harshest mountain terrain. 800.922.1562; www.schnees.com
11. Build a cabin in the woods.
12. Start an art collection.
Look for art walks, auctions and quick draws from Missoula to Boise, Laramie to Kalispell, Casper to Three Forks, all of which showcase the region's most impressive artistic talent. In addition, these annual events can set you on the right track for your personal contemporary Western art collection:
• The Russell: The Sale to Benefit the C.M. Russell Museum, Great Falls, Mont.; March 17-19, 2011; www.cmrussell.org
• Sweet Pea Festival of the Arts, Bozeman, Mont.; August 5-7, 2011; www.sweetpeafestival.org
• Jackson Hole Fall Arts Festival, Jackson, Wyo.; September 8-18, 2011; www.jacksonholechamber.com
• Rendezvous Royale, Cody, Wyo.; September 20-24, 2011; www.rendezvousroyale.org
13. Take a yoga retreat.
Look for inner balance beyond the yoga mat with Cowgirl Yoga™ at a real ranch in Montana. Imagine a long weekend of yoga and horses in an authentic setting; then explore how both can put you in touch with your potential and teach you a lot about yourself. Accommodations are comfortable but rustic, and many meals will be cooked over the campfire. Ask about the tipi option. 406.587.2390; www.bigskyyogaretreats.com
14. Build a better buffalo burger.
For campfire cookin' it doesn't get much better than a lean, but juicy buffalo burger. Look to local meat shops and grocers for the region's best, including Montana Buffalo Meat, grass-fed and available via mail order from Bozeman, Mont. 800.495.0221, www.montanabuffalomeat.com
• Editor's pick: The Shedhorn Grill in Big Sky, Mont. It could be the location, at 9,037 feet in a yurt, slopeside, but I think it's the 100 percent bison burgers grilled outside that get my vote. 406.995.3880; www.skimba.com
15. Ride in a one-horse sleigh — hey!
• Beartooth Wagon & Sleigh Rides operates spring, summer and fall, offering views of the Beartooth Mountains. Red Lodge, Mont., 406.425.0152 or 406.446.2179
• Trail Creek Sleigh Rides offers scenic dinner trips from the Sun Valley Inn mid-December through March. Sun Valley, Idaho; 208.622.2135
• National Elk Refuge Sleigh Rides leave from the Visitor Center in Jackson, Wyo., mid-December to early April. Jackson, Wyo; 307.733.5386
16. Bag a peak.
Whether it is the trail just outside town or an expedition, exploring the mountains of the region could be a lifetime pursuit. Some require only a pair of hiking boots and common sense, while others require serious planning, extra training and a professional guide. Travel respectfully and leave no trace. Want to set the limit sky-high? Try the tallest peaks in each state.
• Idaho: Mount Borah soars 12,655 feet amidst the Lost River Range in the Challis National Forest.
• Montana: Granite Peak towers 12,799 feet in the Beartooth Range of the Absaroka-Beartooth Wilderness.
• Wyoming: Not The Grand Teton (13,760 feet), but Gannett Peak, 13,804 feet, looms large in the Wind River Range within both the Bridger-Teton and Shoshone National Forests.
17. Visit Wonderland.
Yellowstone National Park in the winter invites visitors into the quieter side of America's first national park. Guided snowcoach tours, snowmobile, and ski/snowshoe shuttles are available through Xanterra in Yellowstone National Park at Mammoth Hot Springs, Old Faithful Snow Lodge, West Yellowstone and Flagg Ranch outside the South Entrance. 866.439.7375; www.yellowstonenationalparklodges.com or www.yellowstonewinterguide.com
18. Sleep under the stars.
19. Take the scenic route.
Amtrak operates one daily long-distance passenger train through Montana. Known as the Empire Builder (Chicago-Minneapolis/St. Paul-Havre-Glacier Park-Seattle/Portland), the route travels the Hi-Line and some of the state's most glorious country. 800.USA.RAIL; www.amtrak.com
20. Glide over the Tetons.
Soaring over the Teton Crest, up to 13,770 feet high, you'll come eye-to-eye with The Grand and take in the spectacular panorama of Wyoming's most famous mountain range in the freedom of a glider plane. www.jacksonhole.net
21. Be a dude.
The Northern Rockies is home to some of the country's finest dude ranches.
• Eatons Ranch, the first dude ranch in the country (circa 1879), is still a family-run operation in Wolf, Wyo., near Sheridan. 800.210.1049; www.eatonsranch.com
• Montana's 63 Ranch, located just outside of Livingston, is the oldest in the state. 888.395.5151; www.63ranch.com
• Nestled in the dramatic Sawtooth Mountains near Stanley, Idaho's Rocky Mountain Ranch is as iconic as the West itself. 888.395.5151; www.idahorocky.com
• Rider Ranch is a 1300 acre real working ranch located just 8 miles east of Coeur d'Alene, Idaho. For over 20 years they have shared their ranch with guests, offering short day rides, evening dinner rides and activities for families. 208.667.3373; www.riderranch.com
22. Be inspired by Mother Nature.
Whether it's heart-shaped rocks, pinecones or antlers, these talismans are reminders of your experiences and your connection to the world outside the window. Grab one on a hike and bring the outside in with these natural mementos.
23. Find the ultimate upland bird hunt.
In and of itself, northeastern Montana's Charles M. Russell National Wildlife Refuge (NWR) is more than 120 miles long and encompasses over 2,000 square miles, which makes it bigger than Rhode Island and Delaware. Upwards of 100 species of upland game birds and waterfowl call this refuge home. Find out more from Montana Fish, Wildlife, and Parks (FWP) in Glasgow. 406.228.3700; www.fws.gov/cmr/
24. Eat Montana caviar.
Harvested annually from the prehistoric-origin paddlefish (a relative of the sturgeon) native to the Yellowstone River, these little eggs are said to have a flavor second only to the famous Beluga. Running $20 per ounce and sold through the Glendive Chamber of Commerce, Yellowstone Caviar is a delicacy. Paddlefish season generally runs from May 15th through June 30th, and the short season attracts some 3,000 anglers to Glendive annually. This behemoth fish requires a heavy-duty rig to snag the catch rather than relying on conventional methods. 406.377.5601; www.glendivechamber.com
25. Harvest a bison.
Each year the National Elk Refuge in Jackson, Wyo., opens hunting season on the resident bison herd to manage the population and protect resources. The season begins September 1 and lasts through January. For information and regulations, contact the Wyoming Fish & Game Department. 307.733.2321; www.fws.gov/nationalelkrefuge/
26. Jam up!
If you think you've got what it takes to win the jam or jelly contest at the annual Huckleberry Festival in Trout Creek, Mont., you are one brave home cook. In the North Country a blue ribbon for huckleberry jam is worn like a crown! Join the party, held every August, where hundreds of folks celebrate this wild berry. www.huckleberryfestival.com
27. Watch the wolves.
Become one of the pack for three days in Yellowstone National Park's Lamar Valley with a wildlife biologist who has experienced the wolf reintroduction and knows the intimate details of the various packs. Learn the Living History of the Wolves: January 17-20, 2011. The nonprofit Yellowstone Association Institute offers field courses within the park throughout the year that range from wildlife photography to wilderness medicine. 406.848.2400; www.yellowstoneassociation.org
28. Dig for dinos.
Dinosaur discoveries are part of Montana's rich history (including the Brachylophosaurus and skull of a Stegosaurus found in the Little Snowy Mountain site). On the docket for next year is the hopeful unearthing of a Sauropod. Become a dinosaur detective with the Judith River Dinosaur Institute (406.696.5842; www.montanadinosaurdigs.com) or follow the Montana Dino Trail from Bozeman's Museum of the Rockies to sites in Ekalaka. www.mtdinotrail.org
29. Fly like an eagle.
Each October the Bridger Raptor Festival is held near Bozeman, Mont. Free to the public, the event centers around the largest known golden eagle migration in the United States and is held at the Bridger Bowl ski area. Hike the Bridger Ridge to see the majestic birds play in the thermal winds overhead. 800.223.9609; www.bridgerraptorfest.org
30. Float the Mighty Mo.
First mapped by Lewis and Clark, the Missouri River from Three Forks, Mont., to the Montana/North Dakota is 734 miles of living history. A 149-mile section between Fort Benton and the Fred Robinson Bridge is among the most popular stretches of water with recreationists today and the only major portion of the 2,500 mile-long Mighty Mo that has been protected and preserved in a free-flowing and natural state. It became part of the National Wild and Scenic Rivers System in 1976. Rent canoes and kayaks or arrange a shuttle through Adventure Bound Canoe. 877.538.4890; www.adventureboundcanoe.com
31. Go extreme.
Wyoming's Continental Divide Snowmobile Trail (CDST) runs 608 miles from Lander, Wyo., in the south to West Yellowstone, Mont., in the north. It is a remote and extreme passage beneath the Absaroka and Wind River mountain ranges, yet accessible for any level of rider with a clearly marked trail system and unique lodging options along the way. www.sledwyoming.com
32. Dance at a pow-wow.
These traditional dance and drum competitions are an important contemporary expression of American Indian heritage. The annual pow-wow at Montana State University in Bozeman is one of the region's largest, drawing thousands of visitors, but there are many others in the Northern Rockies that showcase the beauty of Native cultures. 406.994.3881; www.montana.edu/wwwnas/
33. A rodeo road trip.
Fourth of July week in the Northern Rockies is known as Cowboy Christmas, when rodeo contestants, from bull riders to barrel racers, can compete in more events in a 5-day period than at any other time of year. They run hard and ride fast, hauling from one event to the next, from Cheyenne, Wyo. to Livingston, Mont., and everywhere in between. Hit the road on your own professional rodeo circuit and say howdy to the cowboys and cowgirls along the way!
34. Paddle like wild.
Flowing from the sky-high peaks of Glacier National Park, the Middle Fork of the Flathead River is known as Montana's wildest water (that's saying something!). The best time to float the river is between early June and mid-July after the snowmelt has leveled off a bit, but the class I-IV rapids still offer a challenge along the most navigable route, the 20-some miles between Schafer Meadows and Bear Creek. You be the judge. For guided whitewater trips, consider floating with Glacier Raft Company (800.235.6781; www.glacierraftco.com), Wilderness River Outfitters (800.252.6581; www.wildernessriver.com) or Glacier Guides (800.521.7238; www.glacierguides.com).
35. Go to a drive-in movie.
It's not HD; it's just old-fashioned fun al fresco! Proving that the drive-in is alive and well, the classic Spud Drive-In located in Driggs, Idaho, is America's first digital drive-in theater. Showing top movies, as well as concerts and other special events, The Spud has revived a great American tradition. Look for the huge potato and the big screen at 2175 South Highway 33 (208.354.2727; www.spuddrivein.com). For a complete list of drive-ins in your area check out www.driveinmovie.com.
36. Treasure hunt.
There's a reason they call Montana the Treasure State. You can still pan for gold and find sapphires at Gem Mountain, near Phillipsburg. 406.859.4367; www.gemmountainmt.com
37. Be a philanthropist.
Whether it's your local church, a local food bank, art center, school, animal shelter or other personal interest, give back to your community. Volunteer. Make a donation. Make a difference.
---
Tell us the top things on your BSJ List in the comments below or on our Facebook page.