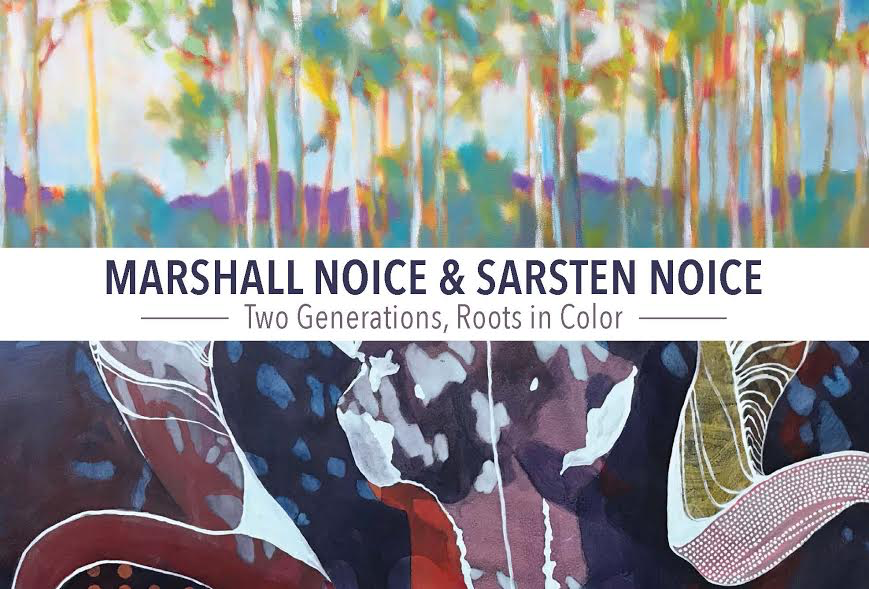 18 Jul

Old Main Gallery Features "Two Generations, Roots in Color"

in

Old Main Gallery is pleased to feature Two Generations, Roots in Color, a two person exhibition featuring new work by Marshall Noice & Sarsten Noice. An Artists Reception will take place on Friday, July 12th from 6-8PM. This event is free and open to the public.

The Father and Daughter, Marshall and Sarsten Noice, demonstrate the differences and similarities between waves of artists with their two person exhibition, Two Generations, Roots in Color. Each with a distinctive and refined style, the influence of bold and bright colors bridges generations. Both Marshall and Sarsten's work reflect iconic Montana.

"Given the fact that we're father and daughter it's interesting how different our work is. In my work references to the landscape are ever-present.  In Sarsten's paintings figurative elements move in and out of work that functions perfectly on a purely abstract level. The similarity that does exist is our common proclivity to pushing the figurative toward the abstract, without forsaking it altogether and moving to pure abstraction.  And we both pay homage to our home state of Montana by choosing subject matter commonly found on our home ground. We both paint things with which we are on very familiar terms. There is no artifice. These paintings ring true. "

-Marshall Noice

Established in 1964, Old Main Gallery & Framing offers museum quality custom framing and the sale of original art by artists from Montana and beyond, in downtown Bozeman, Montana.